I recently won a game of golf for two in a raffle.  The prize was for Dun Laoghaire Golf club.  This Wednesday I availed of the prize.
The course is divided into three nines: upper, middle and lower.  We played the upper and lower.
Green fees would have been €50 each.
I had a very pleasant couple of hours this morning at Dargle View Golf course in Bray. We arrived at 8am just as the course opened.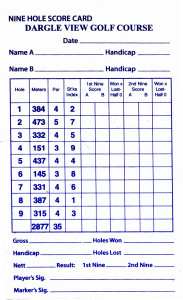 Dargle View is a pay as you golf course.  Green fees are €10 for 9 holes and €12 for 18 holes.
I had a very pleasant morning in Wicklow Golf Club. A friend of mine is a member so I availed of the reduced green fees.  It was very uncrowded so we had a relaxing four hours.
Accuracy is rewarded on this course.  In my case the opposite applied.  Between water, gorse and scrub there are lots of opportunities to lose golf balls.  At the end of the round my golf bag was quite a bit lighter!
There's a lovely variety of holes with wonderful views over the sea and the Wicklow Mountains.  The course is quite hilly (especially the back 9).  By lunchtime I had certainly worked up an appetite.
We had a very pleasant lunch in the clubhouse over looking the Irish Sea.
I'm looking forward to playing here again.
In Aid of DLR Disability Sports Programme
The 2012 Chamber Golf Challenge features the famous Druids Glen course, one of the finest, most challenging and most enjoyable golf courses in Europe. Known worldwide as the "Augusta of Europe" this championship course is a must for the discerning golfer and the perfect forum to build and develop customer relations with both new and existing customers. Playing in early May, golfers will find the course at its optimum playing level.

Druids Glen Course
Druids Glen Golf Resort, Wicklow
Thursday 3rd May
Teams of 4 – €365 for members or €395 for non-members
Individual Players – €95 for members or €100 for non-members
Prizes for
top three teams,
longest drive,
nearest to the pin and
yellow ball.
Your round includes goody bag, a famous Hick's sausage in a bun out on the course and golfer's grill afterwards.
Tee times from 11.00 am to 2.00 pm.
Individual players are welcome!
Get to know other local business people by joining a team for the day.
Update
Congratulations to DLR Chamber on a wonderful day.  Druid's Glen was glorious with perfect weather. The food break by Hick's  in between the 9th and 10th was really welcome. They even supplied me with a vegetarian option. I was really happy with the driver I had bought the previous day in McGuirks Golf.
The highlight of my round was a 3 on the par 3 17th – 168 yds over water onto an island green.  Thanks to Martin Toner for his coaching on the run up to the event.
This latest golf classic will be played on three of Ireland's finest and most picturesque golf courses.
13th September Powerscourt Golf Club.
14th September Druid's Glen Golf Club.
15th September Old Conna Golf Club.
This competition is an 18 hole singles stableford ladies and gents. There will be individual and team event prizes. All competitors will be entered into a draw for the team event but individual teams may also enter.
Entry for the event is €225 which includes 3 rounds of golf, prizes, entertainment and dinner on the final day.
This year alongside the golf classic we are also running a 9 hole charity event from 3pm on the same dates as the classic and it is in aid of:
Dublin Housing / Mental Health Association,
Cancer Research in St. Vincents University Hospital, Dublin
Irish Motor Neurone Disease Association
The entry fee is €25 per day for this event. Entertainment will be provided on all three evenings and will include an Irish themed Gala evening.

How do you fancy spending the day with with the stars and challenging them to a round of golf on the world famous K Club course?
Bóthar, the international development agency that specialises in the use of livestock, is offering you a unique opportunity to go on line to Golfwithstars.com, enter the raffle and play 18 holes of golf with one of 15 sports stars / personalities while also raising valuable funds to support its projects in 35 countries worldwide.

The follwing stars have signed up: DJ Carey,  Paul O'Connell,  Peter Canavan,  Tommy Bowe,  Denis Hickie,  Mick Galwey,  Sarah Newman,  Benny Tierney,  Stevie Mc Donnell,  Andrew Trimble,  Breffny Morgan,  Georgia Salpa,  Ruby Walsh,  Johnny Murtagh and Charlie Swan.
There will be a total of 15 winners, with each winner paired with a star. They will also be joined by two of the winners' friends for a team of four classic. The golf will be followed by a BBQ with the stars where Padraig Harrington will present the prizes.
Draw entries for the Golf with Stars draw can be purchased online at golfwithstars.com. Each entry costs €20. Three entries cost €50. 7 tickets cost €100. The golfwithstars.com event takes place at the K-Club on October 22nd, 2010.
ANNUAL GOLF CLASSIC
In aid of

Powerscourt Golf  Club
Enniskerry, Co Wicklow
Friday 27th August 2010
Sponsored by
NEWBRIDGE SILVERWARE
Shotgun Start at 14.00
Teams of 4 players – men &/or women,
(any combination)
Format: Stableford, 2 scores to count
COST : €700 per team
Includes: golf, prizes, BBQ
For further information please contact:
Heather – 086 0864772 /01-2863509
Nevada Bob's at Elverys Sports are delighted at becoming Title Sponsor for the province's most eagerly contested annual Inter Club event the Jack O'Sullivan Fourball Trophy.
Michael Connaughton, Chairman of the Connacht Branch GUI, stated at the announcement in the Nevada Bob's state of the art new store at Elverys Sport primary outlet in Castlebar that he was delighted to welcome the Nevada Bob's brand to the Connacht GUI Portfolio of Sponsors and felt that it was a perfect fit for the Jack O'Sullivan Trophy which is the most eagerly contested and most wanted to play in Provincial Inter Club Golf event in Connacht annually. Evidence of the popularity of the event amongst the affiliated Clubs in the Province is that it has the highest entry level of any of the GUI Inter Club events every year.
Anne-Marie Hanly, Elverys Sports Marketing Manager said:
"We were very proud to have sponsored a number of GUI competitions in the past, under the Elverys Sports brand. This year we are delighted to announce our sponsorship of the Jack O'Sullivan Trophy competition, under the Nevada Bobs brand. This high profile competition is an important event for all golf clubs and each year continues to attract great numbers so it is a wonderful association to have".
Eddie Treacy, Nevada Bobs Golf at Elverys Sports Store Manager & PGA Pro said:
"We have just opened the third Nevada Bobs golf store, within Elverys Sports stores, allowing us to serve those that are new to the game right up to the professionals. We take pride in our personalised, expert service and advice. We know and love the game and it shows in the way we do business."
The 2010 Nevada Bob's Jack O'Sullivan Trophy began in earnest on Thursday July 1 with a full Round of matches in each of the four qualifying zones in the province and Match Results and Event updates are available on the Connacht Branch GUI's excellent website at www.gui.ie/connacht at all times.